JL Drafting is the leader in Residential and Commercial Designs. We also offer Expediting for Building Permits in the New York Metro Area.
Our expeditors are well acquainted with the many different requirements of the over 20 Department of Buildings which regulate Westchester, Brooklyn, Queens, Staten Island, Manhattan (NYC), and the Bronx. This experience goes a long way in obtaining your Building Permit, Certificate of Compliance (C.C.) or Certificate of Occupancy (C.O.) in a timely manner. At JL Drafting we open new projects and handle all building department permit matters including: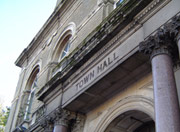 - Certificate of Occupancy
- Alt type I Building Permits
- Alt type II Building Permits
- Special Use Building Permits
- Tree Building Permits
- Change of Use Building Permits
- Legalizations of Existing Structures
- Vacant Building Restoration
- Sanborne maps
- Change of Tenant
- Asbestos Reports
- Public Assembly License
- Two Families
-All Type III Building Permit
-Demo Building Permits
-Best Squad Demo
-Letter of Completion
-Letters of No Objections
-ZRD1 3D Zoning
-TR8 Reports
-Variances
-Controller Inspections
-Special Inspections
-ECB & DOB Violations
-Post Approval Amendment (PAA)
-Fire Marshal

--------------------------------------------------------
In addition we handle:
- Pre-considerations
- Re-considerations
- TR-1 Reports
- Health Department
- Department Of Public Works
- Agricultural Department
- Plumbing Sign Offs
- Zoning Calculations
- Violations Removal
- Surveys
- CO Searches
- Site Plan Review Board
- Historical Society
- Escrow Resolutions
- Engineer Sign Offs
JLD New York City Expediting Dept. has expeditors who are very well versed in all of the local laws regarding ECB Violations Removal, Building Permit regulations and paperwork. They know what needs to be done in order to get ECB Violations Removed, obtain a variety of different Department of Building Permits and know how to do them the right way. If you are unsure of how to fill out a certain form, do not worry, the expeditors at JL Drafting, Inc. will make sure it is filled out correctly. JLD New York City Expediting Dept. can also help with drafting services, ECB Hearings, ECB Penalties, , blueprint creation, illegal conversions and even building inspection. Questions that you may have about the paperwork process will be answered, and an Expeditor will also be able to assist you when it comes to double checking your forms before they are submitted.


If you don't use JL Drafting Inc. while you are in the process of obtaining blueprints, or your Permit, a variety of things can happen. One tiny missing detail can cause a month or two-long delay in your construction plans. You might need more money before you can start construction again. Or, you might spend money on an inspection that you didn't really need, and fixes that weren't necessary to procure your building permits.JLDNew York City Expediting services keeps these building permit disasters from happening.


How JLD New York City Expediting Dept. Can Help
JLD New York City Expediting Dept. can provide a lot of tips and tricks to make the Building Permit application process as painless as possible in addition to having an expeditor help you check over any paperwork that needs to be completed. They will help you obtain the documents that you need in order to get the permits, and an expeditor will explain any of the easily misunderstood rules that come with Building Permits. JLD New York City Expediting Dept. can also offer scheduling services for inspections. Along with getting a crash course in the field of building permits, customers using JLD New York City Expediting services always can be assured that they will get their permits in the least amount of time possible.
Many people don't need an expediting company to obtain the paperwork; they already have it. However, at JLD New York City Expediting Dept. we also perform other functions. Sometimes, our Expeditors will explain new procedures, update customers on new laws that might affect their project, or just give them a rough estimate of the time and money it would take for them to obtain a building permit. People who are in need of an architect, a blueprint designer, an engineer, or a building inspector for their building permit needs, will benefit when using JLD New York City Expediting Dept.. This enlightening information alone makes a consultation with JL Drafting Inc. worthwhile.


Benefits of Using JLD New York City Expediting Dept.
JLD New York City Expediting Dept. helps keep the entire process of Building Permits and conversions under control. It's very easy for this process to become very chaotic, for papers to get lost, information to get written in the wrong way, or for something to simply get lost in translation. Every mistake will be equal to a longer delay, more fees, and more money lost. This doesn't even take into account the amount of rescheduling that would need to be done for every delay. With JLD New York City Expediting Dept. for a very small fee, you could stay away from the annoyance of all the little details, avoid financial loss, and also start your construction project in a timely manner with our expeditors.


Who Uses Expediting Companies?
JLD New York City Expediting Dept. services many different categories of customers who will ask for the aid of expeditors while they try to obtain their building permits, New York City legalizations of homes that had illegal conversions, New York City legalizations of basement apartments, Mother Daughter permits, ECB Violations Removal, etc. Construction companies that want to give their customers an added benefit to their service will come to JLD New York City Expediting Dept. when it comes to blueprints. Homeowners and business owners who need to start a legalization of a conversion or a construction project will ask for help from us when it comes to learning what they would have to do in order to start their project without steep fines. In fact, there are even architects who love the help that they get from an expeditor with their building blueprints.


As a whole, JLD New York City Expediting Dept. can help anyone that doesn't have a thorough knowledge about the rules, regulations, or even the procedures needed in order to get a building permit. Just learning the procedures, and learning what will count when it comes to being able to go forward with your project on time takes a lot longer than most people are willing to deal with.>
The entire process that is needed in order to get building permits on time is a long, tedious, and often very confusing ordeal. Anyone who needs to make sure that they get their permits in on time, as well as anyone who has serious time constraints on their construction or conversion plans could use JLD New York City Expediting Dept. to help them out with the paperwork, planning and entire process.


The Future of JLD New York City Expediting Dept.
JLD New York City Expediting Dept. has noticed the process to get building permits, especially in New York, has become a very intricate, involved, and a time consuming process. Because of the current legislation, it's expected that more and more people will not be able to get their building permits on time without the help of expediting companies. Expediting companies have seen a massive growth in their demand, and considering how much they have to offer homeowners, business owners, contractors and other people involved in construction projects, it's easy to see why.


There are many cases where expediting companies become fully booked for a season, so if you want to reap the rewards of an expeditor, it's best to book an appointment with JL Drafting and Expediting Services as soon as you can.