JL Drafting is the leader in Residential and Commercial Designs. We also offer Expediting for Building Permits in the New York Metro Area.
Below are some important considerations for your Design and Construction project. Click on the individual topics below for more detailed information.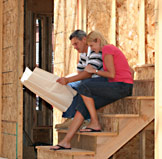 Mother and Daughter or Parent and Child
The definition of a Mother and Daughter in most town's is: You are allowed to have a second kitchen in your one family home, providing you have a parent and child living there. This doesn't mean a relative. You need to also have a free flow home. Meaning you can't have any separation between the two units.
If you are purchasing a home and the realtor says it's a two family. The realtor might assume it's a legal two because it has a 2nd kitchen. You need to hire an expeditor to see if the home is Co'd for a legal 2 family or a mother and daughter. You would be required to obtain a new permit for a mother/daughter home. Even though there may have been a permit for the mother/daughter status, this is temporary and lies with the current homeowner. The home most likely always was a single family home with a "permit" for the mother/daughter status and has a CO for such single family status. If the home does not have a valid permit for the mother/daughter then the stove is most likely in violation of the CO for the home. Therefore, the seller would remove it for the sale of the home. If you are contemplating using the home as a mother/daughter again, you might think about asking the seller to leave the stove, unconnected, either in the basement or the garage, for your future use.
In New York State, a home must be sold with the stove. Therefore, if the home in which you are interested is classified as a single family home, there must be a stove in the kitchen and if the home is classified as a 2 family home, there must be a stove in each kitchen. The current homeowner (seller) - or anyone else, including possibly you, would need to replace the missing stove in the 2 family home in order to complete your purchase.